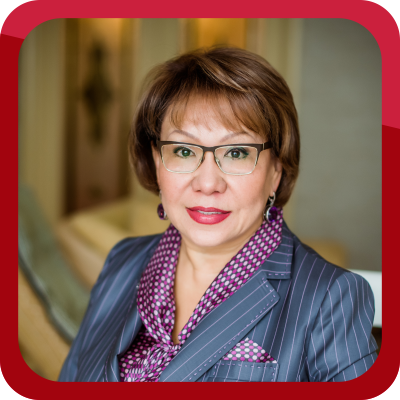 Raushan Sarsembayeva
Association of Business Women of Kazakhstan
President
Honored worker of the Republic of Kazakhstan, Doctor of Sociology, member of the National Commission for Women, Family and Demographic Policy under the President of the Republic of Kazakhstan, President of the Association of Business Women of Kazakhstan.
The author of about 100 scientific works on gender issues, the leader and organizer of various projects and activities in such areas as "Woman and politics", "Woman and business", "Woman and busy", "Gender and development".
During 1995-2016 adequately represented the women's movement in Kazakhstan at various forums and conferences at the national and international level.
From 1995 to the present time she hasbeen leading the Association of BusinessWomen of Kazakhstan, which has over 15,000 members and has a network of non-governmental organizations throughout the country. The main goal of the Association is to contribute to the expansion of women's economic and political opportunities, thereby contributing to their social status in society and the promotion of gender equality ideas.
For 21 yearsthe Association of Business Women Kazakhstan under the direction ofRaushan Sarsembayeva has made a significant contribution to:
1. Improving the interaction amongthe civil sector, business and the state.
2. Promotion of women in the socio-political sphere.
3. Development of the country's economy through the provision of employment and the growth of women's entrepreneurship.
4. Preservation of family values based on the protection of the rights of women and children.
5. Formation of a successful image of Kazakhstani women at the international level.
Thus, the Association of Businesswomen of Kazakhstan played a significant role inenhancing the capacity of women.