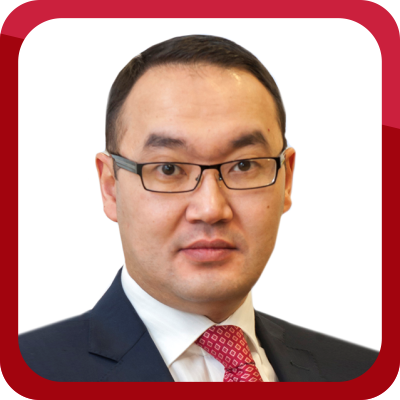 Yerzhan Ashikbayev
DEPUTY MINISTER OF FOREING AFFAIRS

Yerzhan Ashikbayev was born on June 16, 1974 in Almaty, Kazakhstan. In 1998, he graduated from the Al-Farabi Kazakh State National University with BA degree in International Relations. In 2012, he graduated with Master's degree in Public Administration from the John F. Kennedy School of Government at Harvard University as the "Bolashak" Scholar.
Yerzhan Ashikbayev started his career at the Ministry of Foreign Affairs of the Republic of Kazakhstan in 1998 as a desk officer at the Asia, Middle East and Africa Division of the Fourth Department. From 1999 to 2001, he held consecutive positions of Attaché, Third and Second Secretary at the Department for International Economic Cooperation.
From 2001 to 2002 Mr.Ashikbayev served as Head of the Unit for Economic Cooperation with Europe and the Americas at the Economic Policy Department. In 2002, Yerzhan Ashikbayev was posted as First Secretary to the Embassy of Kazakhstan in Brussels.
In March, 2005 he returned to the Foreign Ministry as Deputy Director of the Department for International Humanitarian and Economic Cooperation.
In June, 2005 he was appointed Head of Foreign Minister's Chancery. In 2007-2009, he served as Chairman of the International Information Committee; from 2009 to 2011 he held the position of Ambassador-at-Large – Advisor to the Minister of Foreign Affairs. In September, 2012 he was appointed Deputy Head of Prime Minister's Office and in October, 2012 – Head of the Foreign Policy Center at the Presidential Administration.
Since December, 2013 Yerzhan Ashikbayev serves as Deputy Minister of Foreign Affairs of the Republic of Kazakhstan. He speaks English, Turkish and French, and holds a diplomatic rank of 1st Class Counsellor.