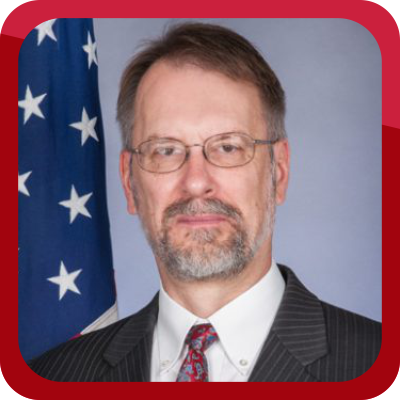 Allan Mustard
United States Ambassador to Turkmenistan

Allan Mustard is the United States Ambassador to Turkmenistan. Until this appointment, he was the most senior Foreign Service Officer in the Agricultural Service, U.S. Department of Agriculture (USDA), class of Career Minister. Ambassador Mustard served most recently as Agricultural Minister-Counselor at the U.S. Embassy in New Delhi, India.
Ambassador Mustard served previously as Agricultural Minister-Counselor at Embassy Mexico City from 2008 to 2011, and Agricultural Minister-Counselor at Embassy Moscow from 2003 to 2008. His earlier overseas postings include Vienna, Istanbul, and Moscow. He joined USDA in 1982 as an agricultural economist. Prior to joining USDA he was a social work assistant for Jewish Family Service of Seattle, resettling Soviet Jewish émigrés. From 1978 to 1979, he served as a guide-interpreter for the U.S. International Communication Agency on an exhibition in the U.S.S.R.
In Washington, D.C., Ambassador Mustard served as Assistant Deputy Administrator for Foreign Agricultural Affairs in the Foreign Agricultural Service; Deputy Director, Emerging Democracies Office, Foreign Agricultural Service; and the Deputy Coordinator of the Eastern Europe and the Soviet Secretariat in the Foreign Agricultural Service. In these latter roles he oversaw USDA policy toward the former Soviet Union, negotiated food aid agreements, and administered technical assistance programs. Ambassador Mustard's awards include five Presidential Rank Awards; USDA's highest honor, the Distinguished Service Honor Award; USDA's second-highest award, the Superior Honor Award, twice; the Grand Golden Medal of Merit, the highest award the Republic of Austria grants to foreigners; and numerous Department of State and USDA performance awards.
Ambassador Mustard holds a Master's of Science degree in Agricultural Economics from the University of Illinois at Urbana-Champaign, Urbana, Illinois. Additionally, he has two Bachelor's degrees, in Slavic Languages and Literature, and in Political Science from the University of Washington, Seattle, Washington; and a certificate in Russian language from Leningrad State University, U.S.S.R.