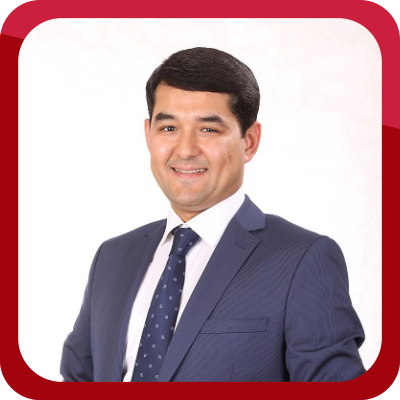 Akmalkhon Olimkhonovich Olimkhonov
"Alimkhan Exim Group" LLC (Uzbekistan)
Expert in foreign trade, PhD, candidate of economic sciences
Expert in foreign trade, PhD, candidate of economic sciences. He is a founder of "Alimkhan Exim Group" LLC (Uzbekistan), which is engaged in consulting and organization of export of small business products.
He is an author of the manual "How to export your products?". He holds a Master's degree in International Economic Relations from the Tashkent Economic University. He took the WTO courses at the Indian Institute of Foreign Trade (India). He successfully studied the Chinese Language Course at the Heilongjiang University (PRC). He also completed the Professional Management Program (PMP) in Uzbek-Japanese Center of the Republic of Uzbekistan. He is a graduate of the IVLP program "Sustainable agriculture and modern marketing" (USA).
For a long time (14 years) he worked within the Ministry of Foreign Economic Relations, Investments and Trade of the Republic of Uzbekistan. He coordinated the company's foreign trade related activities of the state-owned foreign trade companies "Markkasanoatexport" and "Uztadbirkorexport".
Mr. Olimkhonov is an author, developer and trainer of the manual "How to increase the volume of exports of goods (services)" prepared at the request of European Profiles for the Chamber of Commerce and Industry of Uzbekistan and Training Centers. He conducts master classes and trainings.