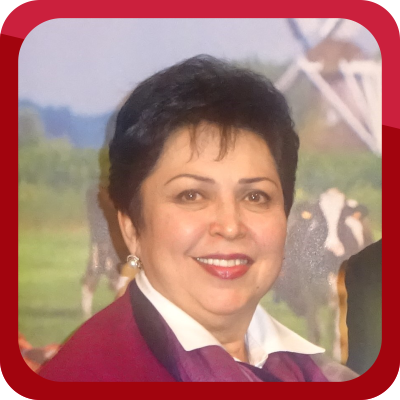 Aziza Yuldasheva
Association of Agribusiness of Kyrgyzstan "Jer Azygy"
Director
Member of the Investment Council under the Prime Minister of the Kyrgyz Republic, Head of the Secretariat of the National Alliance of Business Associations in the south of the Kyrgyz Republic, a member of the NGO "Women's Forum" Kurak ", head of the club of business women in Osh city.
Annually, since 2004, Aziza conducted the International exhibition-fair "Agro Expo Silk Road " for the three countries of the Ferghana Valley in Central Asia in the city of Osh, which is attended by about 50 companies from 14 countries and visited by more than 4,000 farmers.
She facilitated the opening of 21 agro-shop with a single trademark AAK "Jer Azygy" for farmers in rural areas of southern Kyrgyzstan
She conducts work on the development of women entrepreneurship and organizes a regional competition for young women of the south "Demilgeluu Aiym", which promotes the support and opening of the new women's businesses.
In April 2017 she conducted " WOMEN-EXPO SILK ROAD 2017" The first International Regional Echibition of Women Entrepreneurs of the countries of the Ferghana Valley of Central Asia with the participation of 70 women entrepreneurs from the following areas of business:
• Production and processing of agricultural products
• Garment manufacturing
• Handicraft.